RSA Wessex Branch
includes Solent & Cotswold branches
Last update 04 January, 2022 10:32
---
Welcome to the Wessex Branch of the RSA Website!
This section gives easy access to all the information needed about the workings and activities of our section. The full social programme activities etc., can be accessed using the buttons . Comments, updates, photos and ideas for future activities and visits are always welcome. We look forward to seeing as many of you as possible at any/all of our functions.
We can be contacted by email the branch on the hyperlink below, please note that there may be separate email addresses for special event bookings. Because of data protection, if you wish to be included then please inform one of the committee or email:- CAA-RSA-Wessex @ hotmail.com

Currently SOLENT & COTSWOLD are looked after by the WESSEX Branch.
Check the What's On page for all events.
Last update made on the 04 January, 2022 10:32.
(This will be updated when the programme changes are confirmed.)
Select here for a printout of our 2021/2022 programme.
(It was updated on the 17th November 2021)
EVENTS LISTED FOR 2022 ARE STILL SUBJECT TO CHANGE OR CANCELLATION DEPENDING ON THE CURRENT COVID SITUATION - CHECK THE "WHAT-ON" PAGE.
---
December 14 2021 - Christmas get together in St Mark's Church Hall - Wallisdown.
The group met to enjoy a warming glass of punch and some delicious hot food and nibbles provided by Joc and her team. Due to the latest Covid situation it was moved to the large hall to keep social distancing. There was an supper raffle with some excellent festive prizes and a chance to find out who was who from their baby photos. There was also a quiz based on Christmas Carols.


---

November 23rd 2021 - Skittles and lunch at "The Walkford".
About 23 members enjoyed a game of Skittles followed by an excellent lunch - some even managed 3 courses.

---

October 26th 2021 - Meeting at the Carpenters Arms, Bransgore.
A talk by Kevin Patience on the Air France Disasters in 1950 when two DC4 aircraft crashed into the sea off Bahrain – just two days apart. Both pilots were blamed but subsequent investigations revealed some surprising results ! Afterwards most members stayed for an enjoyable lunch.

---

September 7th 2021 - Coach trip to Highclere Castle.
19 members had a great coach trip to Highclere Castle with wonderful weather. The group stopped for coffee at the silk mill in Whitchurch which was a delightful setting by the mill pond and stream. At Highclere the group had entry to the grounds, garden, castle and Egyptian Museum as Lord Caernarfon, the owner of Highclere, was one of the sponsors for the Tutankhamen expedition. Highclere was also used for the filming of the Downton Abbey series.

---

August 10th 2021 - Annual RSA Wessex branch Garden Party in Romford Dorset.
On a lovely sunny morning the group of 25 members met at 11:00 a.m. for Tea or Coffee. This was followed by sandwiches etc. for lunch and a cream tea. There was the usual raffle & bring and buy stall followed by Ted's auction of unsold items. Our chairman also ran the quiz and there was a Brain Teaser from one of the members.
,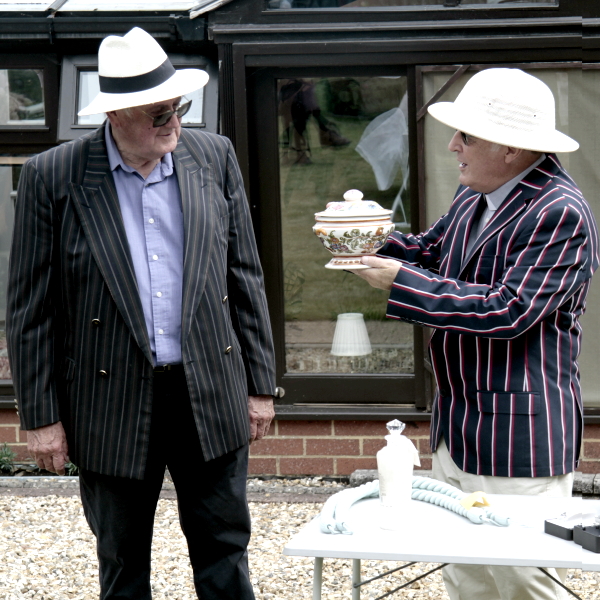 ---
June 22nd 2021 - the group visited the "English Oak Vineyard" in Lytchet Matravers.
This is a boutique vineyard, just 10 minutes drive from the centre of Poole, English Oak Vineyard is thriving in Dorset's beautiful countryside. The tour given by husband and wife owners Andrew and Sarah, included a relaxed and informative walk through the vineyard. and later in the visitors centre the story of the creation of the vineyard was told followed by a tasting of its internationally award winning sparkling wines.



---
May 25th 2021 - Lymington walk followed by a pub lunch at the Chequers Inn.
This was the first event that the group managed to hold since the Covid Lockdown when about 30 group members had an enjoyable walk followed by lunch at the Chequers Inn, Lymington.

---
February 19th 2020 Meeting at the Carpenters Arms, Bransgore.
Unfortunately David Bickerton was unable to give his talk about "Parents at War" at this time and it had to be postponed until a later date. In its place our chairman gave his talk on the "Jewellery of Elizabeth Taylor" - enjoyed by all. 16 people stayed on for lunch.
---
The Wessex Group Celebrated with a BURNS SUPPER
An'a wee bit o'nonsense! - with a programme of discourse, music an' verse!!
A Warm Welcome frae Phil the chair. followed by an Address to the Haggis by Ted wi' Piper Callum.
The Selkirk Grace was led by Jocelyn. then Supper was served with Soup, Haggis an 'Neeps, Steak & Stilton Pie or Salmon Fillet. It finished with Highland Trifle or Whiskey & Orange Ice Cream, Tea and Coffee.
The meal was followed by "The Immortal Memory", presented in style by Paddy Pollock. Chris o' the Swinn gave "a toast to the lassies", with a reply from Alison o' Prestwick.
A good time was had by all.
---
December 10th 2019 - Christmas Drinks get together held at the Tyrrells Ford Hotel. Around 30 people turned up for the Wessex Annual Christmas drinks meeting to catch up with old friends.
---
Approximately 27 members turns turned out for an enjoyable game of skittles with around 25 staying on for lunch in the "Three Legged Cross". I have no idea why Vintage Inns decided to name it as the "Three Legged Cross" as it is in fact about 1 mile from the centre of the Village.
---
This was a visit to the Wayland owned Sixpenny Micro Brewery in Cranborne. We were welcomed by Lyall, the head-brewer, who served tasters of the beers they produce and then took the whole group on a tour of the brewery itself. They then supplied a nice ploughmans with cheeses, nibbles, bread & olives etc.
---
Wessex Branch Contact information
The branch can be contacted by email using the email address below, please note that there may be separate email addresses for special event bookings and because of data protection, if you wish to be included in emails then please inform one of the committee or email:-
CAA-RSA-Wessex@hotmail.com
Please put either "Social", "Treasurer" or "Committee" in the subject.
---

Wessex Branch
For problems with the RSA Wessex Page only then please email:- webmaster@verwood.org