Wessex Branch Organisation
Normally during the year the group holds monthly meetings. Some of these consist of talks, normally held at the Carpenters Arms (Bransgore) where a nice lunch can be enjoyed after talks. January usually consists of a meal such as Burns Night. Usually there is a summer garden party plus other visits. Normally there are no meetings in August, and in December there is usually a NATS Bournemouth get together at the Tyrrells ford hotel.

Carpenters Arms, Bransgore
103 Burley Road,
Christchurch,
Dorset,
BH23 8BA
---
Wessex Branch Contact information
The branch and Committee Members can be contacted by email using the hyperlink below, please note that there may be separate email addresses/Telephone numbers for special event bookings.
If you wish to contact any committee member then please use the email address listed below. Because of data protection, if you wish to be included in any future emails then please inform one of the committee or send an email:-
CAA-RSA-Wessex @ hotmail.com
Please put either "Social", "Treasurer" or "Committee" in the subject.
---
A Photo taken by Phil Holt of some of the liners stored in Poole Bay in June 2020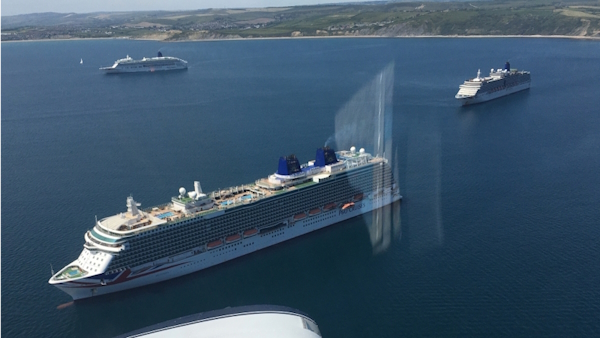 ---
Do you remember the Construction of NATS ATCEU & College in 1962

---
New Forest Aviation Information
John Levesley (a retired NATS ATCO) who lives in Bransgore, which borders the eastern edge of the site of the former Winkton ALG. Following the publication in 1982 of Chris Ashworth's book on Military Airfields of the South West. He was intrigued to find that those fields had indeed been used, all be it for only a few months in 1944. After a number of years he compiled information on Winkton ALG and the operations from the ALG by the 404th Fighter Bomber Group of the US 9th Air Force.
More information can be found on his website Winkton.Net which has further links to information about the 404th Fighter Group etc. The RAF Sopley site also has additional information. The FONFA SITE (Friends Of the New Forest Airfields) gives more aviation information in Wessex.
Another site of interest is the ATC-History site which is an archive of 20th century air traffic control photographs and other media sponsored by the Guild of Air Traffic Control Officers. This also contains a section on the College of ATC and ATCEU/ATMDC site.
All these sites are packed with information and contain links to other sites for further reading.
---

Wessex Branch
If you have any problems with the RSA Wessex Page ONLY then please email:-
webmaster@verwood.org