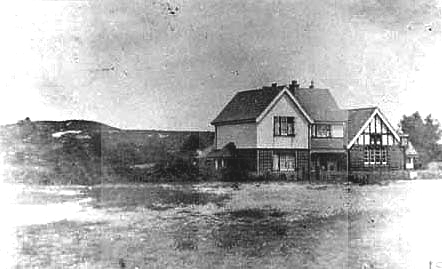 The Restynge House was built by the first Vicar of Verwood, the Rev. Claude Brown around the turn of the century as a place where travellers and visitors to Verwood could obtain refreshment should they not wish to visit a Public House. The photograph above shows the Restynge House in 1908. Just visible on the left of the picture is St. Stephens Castle.
It became popularly known as the Coffee Tavern and after the First World War it was enlarged at the back to provide space for a Men's Clubroom with a large billiard table and dartboard. It was also used as the Church Hall and the first doctor's surgery in Verwood was held there.
During the 2nd World War war it was an A.R.P. station and the windows were sandbagged. For a few years in the early '50's it was also used in the daytime as an intake classroom for the schools, children going from there to the Church School.
The building was sold by the Church on 25th March 1960 and the money used to improve the then Church School. It was purchased by Mr. Bailey and became his new showroom as can be seen below.
The old Restynge House was demolished, with much opposition, in 1989 and the Shop & flats complex was opened in April 1990. Note that Baileys moved into the new premises at the opposite end of the new building. The picture below was taken in the summer of 2005.