Brief description of how the Kiln
would work at the Crossroads Pottery.
(with thanks to Clive Daniels for the illustrations.)
The circular kiln was built in a large earth mound and the kiln chamber resembled a well made of bricks. The firing chamber was under the well and had one fire mouth. The floor of the well was perforated to allow the flames through to the pots.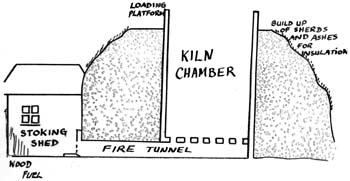 The original 15 feet diameter kiln was on the site of April Cottage (Now demolished) situated on land to the west of the Heritage Centre which is now occupied with new shops including COSTA Coffee.
The kiln was stacked from the top, the operator climbing down a ladder inside and receiving the pots from another operator outside. As the pots were usually glazed only on the inside, smaller ones could be stacked upside down inside larger ones. Thus little kiln space was wasted. The pots were stacked on top of one another to the top of the kiln, which was then covered with sherds.
The kiln was first stacked from the top with smaller pots being placed inside larger ones.
The skill was to systematically stack the kiln as shown.
The fuel used was wood, and firing took up to three days and nights beginning with a small fire and gradually building it up to get more heat. During this time the fire needed constant attention and towards the end of the firing faggots and gorse were put on to clear the fire and flux the glaze (flashing).
No aids were used to determine the kiln temperature, this being determined-by the skill and experience- of the potter. When the required temperature was reached certain bricks in the side of the kiln were watched carefully until they attained a recognised redness of heat, or until the sherds at the top of the kiln became coated yellow. One pot was then removed with a piece of iron with a hook on the. end, for testing.
The kiln was wood fired and this firing took 2 days and 2 nights.
The third day was spent "burning off in order to 'flash' the glaze.
The kiln was then cooled gradually by blocking up the entrance to the firing chamber, leaving a very small hole. When the fire had been let out the kiln was left for two or three days to cool before it was emptied.